I hear a lot of the same questions about how to do "this thing" in Illustrator, or where should I start if…I'm a total beginner, I don't know how to draw, etc. And I know how hard it is to find quality, easy to follow Adobe Illustrator fashion tutorials.
I also see designers doing things the roundabout way (spending hours on things that should take minutes).
So to help you out, here are my 8 hand picked (free) Adobe Illustrator fashion tutorials based on your specific situation.
Don't be overwhelmed, just pick ONE based on where you're at right now.
(And if you want more, grab my FREE Ultimate Guide!)
1. I'm an absolute beginner – where should I start?
I heard this SO often, I created the 3 video "getting started series" to help you begin.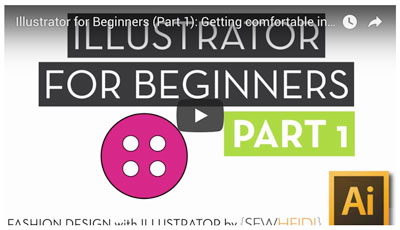 2. What if I don't know how to draw?
It's ok, me neither! Here's how to sketch your designs using a photo (no artistic skills required).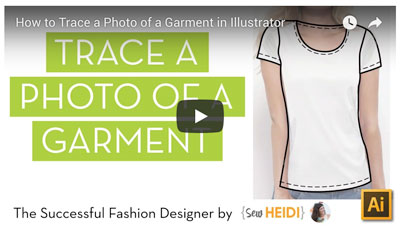 3. My sketches look flat – how do I add dimension?
Got 2 mins? These 5 tricks that take less than that.
4. I hate the #&$*@% Pen Tool!!!!!
First, take a breath. Second, watch this. ? (#mindblowing, promise)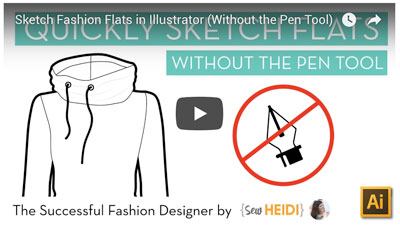 5. I need to learn the #&$*@% Pen Tool!!!!!
Yes, you do. Take the free 20 minute mini sketching course and finally understand how this tool works so you can accurately predict what it's going to do next. (#promise)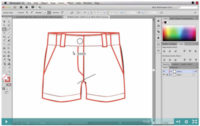 6. How do I create a repeating pattern?
There are simple tricks…that no one ever told you. CS5 (or older)? Click here. CS6 (or newer)? Click here.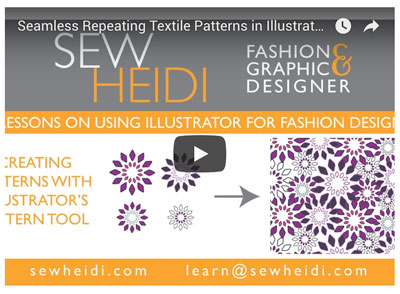 7. How can I create a pattern from an image?
Puhleeze don't repeat the image manually and use a clipping mask…do this instead.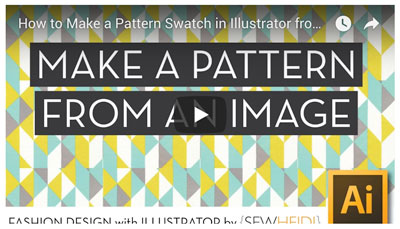 8. I just spent 6 hours recoloring my line sheet / designs / patterns. Help!
STOP working now and watch this short vid to learn how to recolor anything (even an entire line sheet!) in 30 seconds.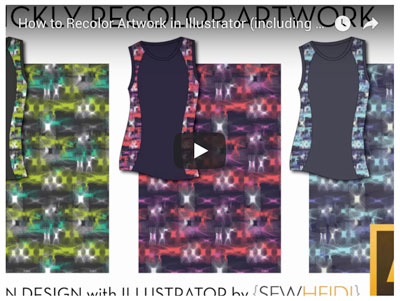 ---
Now listen…
While I don't know *exactly* why you're looking for Adobe Illustrator fashion tutorials…
– maybe you're launching a label and sketching your own designs?
– maybe you're fresh out of fashion school but didn't learn the skills you need (sorry)?
– maybe you're finally ready to gain some digital confidence after 20 years sketching by hand?
– maybe you're kickstarting your freelance fashion design career (yaaasss!!!)?
I do genuinely hope these tutorials will help you.
Because there is one thing I do know. It's this:
You and I have been through a lot of the same sh!t in Illustrator.
We have fought with the software so much we have almost (on multiple occasions) thrown our computers out the window.
We have been stuck doing things the way we're comfortable…even though we know there's a faster way (why are we so stubborn to change?!).
We have celebrated when we start to feel the tiniest bit "comfortable" with the program…only to feel deflated when some other issue pops up.
We have spent 2 hours digging through YouTube or Adobe help videos trying to apply some tutorial on creating logos to our work in fashion…which feels impossible.
It SUCKS!!!!
And here's another thing I know. No matter where you are in your fashion journey…I guarantee this:
Parts of our fashion stories are pretty similar.
I have been through the launching a label and "my big break is right around the corner" thing.
I have been through the working as an employee and "am being paid pennies and abused by my boss" thing.
I have been through the making it as a freelancer and "trying to get that next client so I can eat this month" thing.
Know that you got this, and that I'm here to help you out every step of the way.