It's very easy to recolor artwork in Illustrator – including pattern swatches, brushes, or just solid blocks of color – if you know the right tricks. This tutorial will show you exactly how to do all of that. Learn how to quickly make multiple colorways of your fashion flat sketches, repeating pattern swatches, or even entire […]
I teamed up with Bombsheller to bring you this badass tutorial and share the quickest tricks to editing colors in Illustrator. In this video tutorial, here's what you'll learn: The best shortcuts to quickly edit colors in Illustrator using Live Color / Recolor Artwork (3:30) How to find where colors are (4:45) How to change one color position (5:02) How […]
Brushes in Illustrator are a great way to emulate many different fashion related items including stitching, rhinestones and sequins.  They're easy to control and manipulate, and in this tutorial, we'll go through how to change the color of brushes in Illustrator. The example below is shown with pattern brushes, but works with art and scatter […]
There are a lot of tutorials about recoloring artwork in Illustrator, but I haven't seen any that document working with tonal colors.  This tutorial will show you how to recolor prints, heathers / melanges, and other textures or repeating surface / textile design swatches that you want to keep tonal. This specific example is demonstrated using a 3 […]
If you work in fashion, you spend a lot of time in Adobe Illustrator. And the worst feeling is to feel like everything takes FOREVER! My best is that you're doing things the roundabout way and don't know the right AI shortcuts for fashion. Learning these simple tricks will save you HOURS each week (and […]
You're probably using Pantone colors to design your fashion collection, so you want to color all your flat sketches with them. It's very easy to do this in Illustrator by limiting your swatch library (even if you've already filled your artwork with non Pantone swatches). In this video tutorial, you will learn: 00:32 How to […]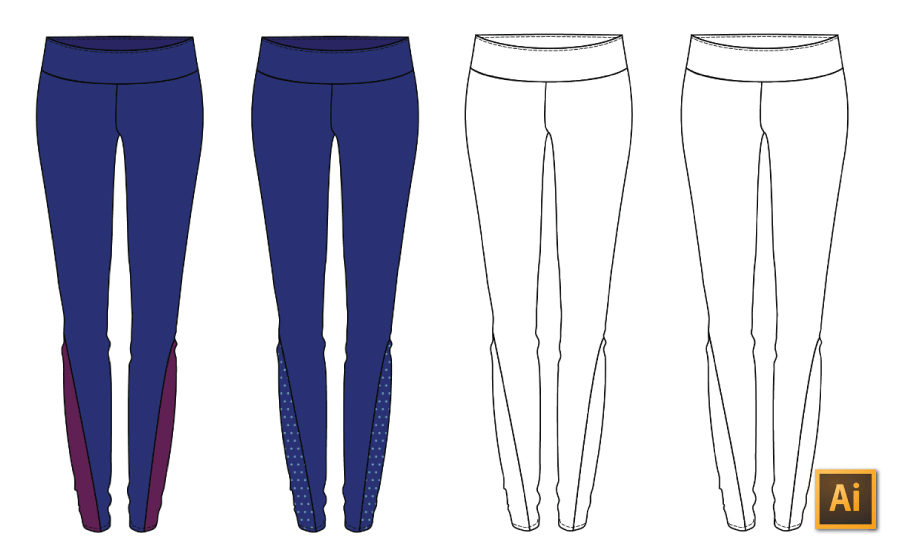 We design in color, but we need a black and white sketch to create tech packs and spec sheets. This one quick trick will show you how to easily convert color sketches (or any other artwork) to black and white in a few clicks. You will learn: 00:24 How to change solid color positions to […]
Working with Live Paint, you can fill an illustration with color in a matter of seconds. Learn the various settings to work with and control this feature in greater detail.
The release of Live Trace was groundbreaking on many levels in Illustrator. Learn how to use this feature on a full color fabric scan and then quickly create multiple colorways.
Use the blend tool not only to blend shapes, but to blend colors. A great way to create mid-tones for prints and patterns.
Heads Up: We use cookies to customize your experience and track how you interact with our site to serve you better. OK more info